It's been a busy year for Swiss watchmaker Vacheron Constantin. It overhauled its popular Overseas collection to acclaim among fans, and it launched the North American boutique-edition Traditionnelle Day-Date and Power Reserve we covered recently. And that was on top of releasing the most complicated watch of all time in late 2015.
On Tuesday, the brand is announcing an innovation in its production repertoire: a $150,000 platinum watch that is an update to an elegant, popular timepiece it has been making since 2010. The Traditionnelle Chronograph Perpetual Calendar has won over fans for its complexity and innovation: It shows the date, moonphase, month, and day of the week, and it can even handle the bump of a leap year—all while offering the timing capability of a chronograph watch. (For non-watch aficionados, a reminder: All of this is possible without electricity; the wearer just needs to wind the watch once every couple of days to get all this.)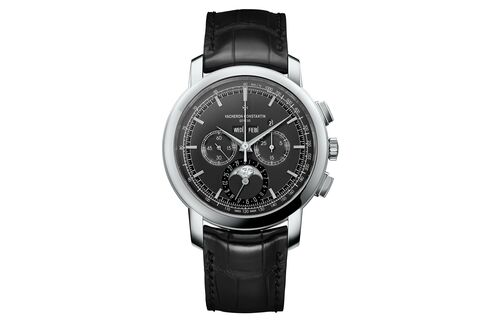 But none of that is new. What's fresh with this version of the watch is that the movement—the internal machinery that literally makes it tick—is being built for the first time by Vacheron itself. Previously, the storied brand had bought movements for these watches from the Swiss manufacturer Lemania, which is owned by the Swatch Group.
But ever since 2011, Swatch started slowing down the supply of movements to third parties—and this has had a serious ripple effect. Many Swiss brands rely on Swatch-produced workings to power their timepieces. Vacheron has since been toiling away at its own manufacture, putting self-made movements in more of watches, and this latest in-house effort is its best yet, according to the press materials the company has sent out.
Being a perpetual calendar, the updated model can account for leap years and accordingly remain accurate right through until March 1, 2100 without adjustment. And in this update, Vacheron has added a tachymeter ring outside the minute track, as well as black day and month wheels to make time-telling more legible, which answers complaints about the previous model. To improve on its overall accuracy over the past modified movement, its oscillating frequency has bumped up to 3Hz, rather than 2.5.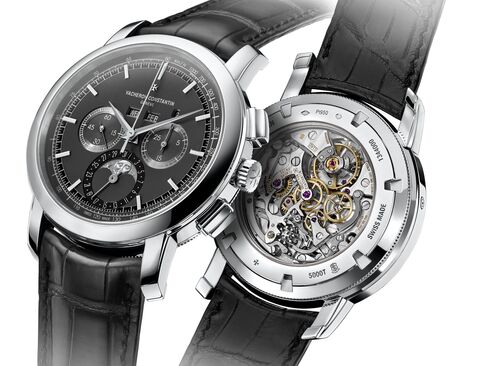 Mechanics aside, this platinum gem is no slouch in the visuals department. Playing the subtle shades of gray card, a sleek, dark-slate opaline dial is contrasted by silver accents on its subdials. A beautifully decorated 22-karat, white gold moonphase indication disc provides a stunning focal point on an otherwise understated design. The case is 43 millimeters and made of polished platinum.
Perpetual calendars—especially perpetual calendar chronographs—are hugely collectible when you're talking brands such as Vacheron and Patek Philippe, and this is the kind of watch that'll end up commanding even bigger dollars when it rolls across the auction block in 40 or 50 years.