Whether its easy-breezy commuting or pumping out 70 miles on a crisp Sunday morning, fall is here—and with it, perfect cycling weather. Now's the time to gear up for peak season in the saddle. To help you decide, we spent some time sweating in our lycra, testing out the tech gear we found most intriguing. Three testers took a variety of devices on training rides that entailed a lot of looping around New York's larger parks, as well as daily commutes from Brooklyn to Midtown Manhattan. Here's what we found over the course of two weeks.
For Everyone
Varia Rearview Radar
Not to bring you down from your happy cycling place, but according to the League of American Bicyclists, getting hit from behind is the cause of 40 percent of cycling fatalities (PDF) in the U.S. If you're looking to upgrade bike safety, Garmin's Varia Rearview Radar performed consistently and well. The radar tail light mounts to your seat post and can detect vehicles approaching at up to 153 yards; it then communicates wirelessly with the display unit (or any Garmin Edge computer) to give you a visual heads-up. The tail light also flashes brighter at such times to make you more visible to the driver. We did find the radar less helpful in busy bike lanes and on city streets, where there's always a bike or car behind you. But if you're taking the path less-cycled, advanced warning of that truck coming up behind you at 60 miles per hour can't be a bad thing. Radar bundle with tail light and head unit, $299.99; tail light only, $199.99
Bottom line: It's a great way to boost your awareness of what's happening on the road around you—particularly on less-congested routes and those lacking bike paths.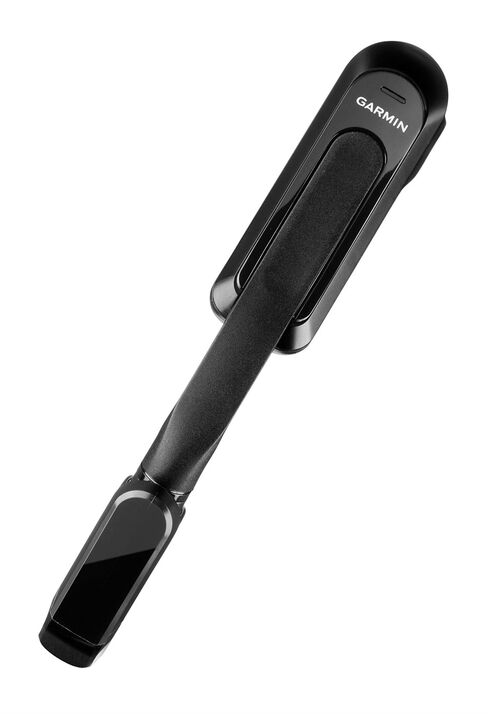 For Enthusiasts
Varia Vision Insight Display
To boost your awareness in another sense—of your cycling stats—this wearable product from Garmin does the trick. The stem of the unit attaches to either arm of your sunglasses, and the display window sits outside your direct line of vision. Your cycling data is relayed from your (compatible) bike computer—we paired it with the Garmin Edge 1000 (more on that below)—and you slide your finger along the stem to switch between screens. It also syncs with the Rearview Radar for complete notification synergy. Just as with your cycling computer, you can set up and arrange different windows to organize the data you want to see while you're riding. Then, with just a swipe, you can view a multitude of stats such as speed, cadence (the rate of pedal rotations), time, distance, power, and elevation in just a few windows.
Using the Varia Vision Insight Display isn't as distracting as looking down at a computer and swiping through screens, but it's not quite seamless, either. While it is very light (1.1 oz.), your sunglasses are probably lighter, which can cause the device to pull your shades down a bit; I had to keep adjusting mine in order to view the screen. We also found that if you need to look over your shoulder on the same side as you have the device, you'll have to contend with a small blind spot. Still, once you've been wearing the Varia Vision for a while, as with all things on a long ride, it eventually fades into the background and becomes a convenient tool you can use if you want, or ignore for stretches of time. $399.99
Bottom line: Worth it, if you're excited about having fast access to information while you ride—and don't mind looking a little like a cycling Terminator.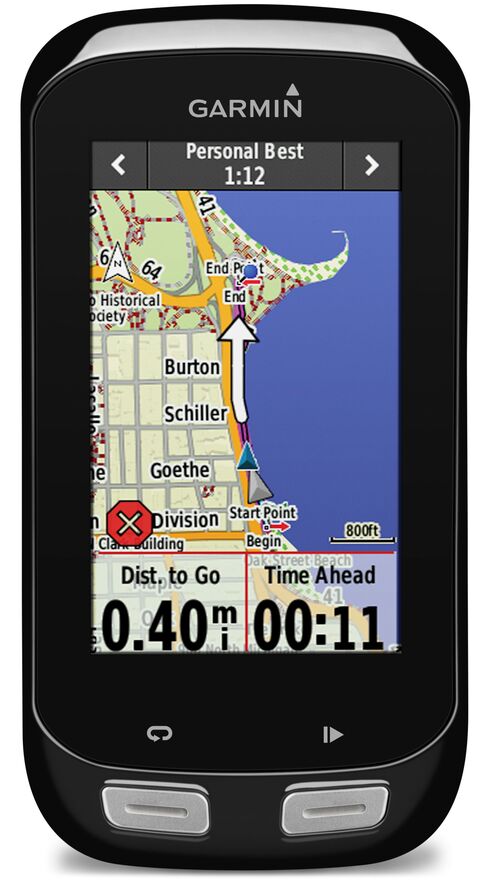 Edge 1000
The Edge 1000 is a powerhouse of a GPS bike computer, acting as a lynchpin for all your connected devices and your phone. We used it throughout our testing and were not disappointed with its functionality and features: It was easy to sync up with all the other products in this review, including PowerTap's P1 Pedals (see below), and its high-resolution, color touchscreen is very user-friendly, even with gloves on. Its navigation features proved a boon for those out for fun and looking to explore. You can be notified of places of interest along your route or, if you're feeling more adventurous, you can have the computer suggest three routes, based on the distance you want to ride.
For those ever-bent on going faster for longer, you can customize up to 10 training pages to display whatever data you're gathering along your ride from power meters, cadence sensors, heart rate monitors, and so forth. (The Edge will pair with any sensors over ANT+.) If you pair the Edge with a Garmin power meter, its Cycling Dynamics metrics will give you data for days. And when you're ready to start training like a pro, the Edge is compatible with the even more powerful WKO4 analytics software as well.
Wonderful as all this sounds, one tester pointed out that many of the Edge 1000's capabilities are available in other Garmin computers. You could potentially pair a less-expensive, tricked-out computer with a smartphone and some apps to access similar features at a lower cost—and a lighter weight. (The Edge 520 weighs in at 2.1 oz., compared to the 1000's 4 oz.) That said, if you're looking for all the goods in one sleek package, then the size and weight of the computer may not be that much of a deterrent. Bundle with premium heart rate monitor, speed sensor, and cadence sensor, $599.99; device only, $499.99
Bottom Line: For those who want a souped-up bike computer that looks, feels, and works a lot more like your smartphone, all in one sleek package.
For Pros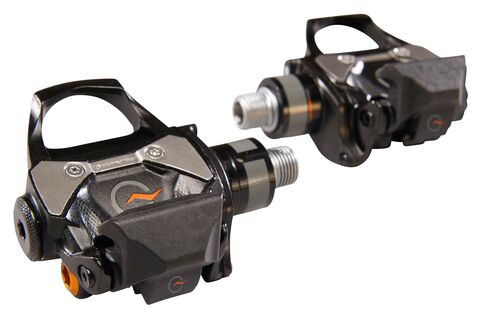 P1 Pedals
For the more–perhaps most–avid cyclists, we clipped into PowerTap's P1 pedals. These power meters are for those of you who love gathering loads of data in your peak performance quest. They measure how much power you're applying to the pedals throughout the rotation on each side; separate left and right readings are what set these meters apart from other pedals that pull data only from one side. You not only see the overall watts you're pushing out, but how much power each leg is cranking relative to the other and where in the rotation your power changes. This is the kind of information that helps cyclists who are looking to improve their form and tweak their exertion to train better and minimize the possibility of injury.
The PowerTap P1 pedals have a simple design that makes them easy to install and even switch between bikes. Don't have a torque wrench? Can't manage to get installation angles just right? Not a problem. As long as you can get the old pedals off your bike, these are basically, as the company claims, "plug and play." They are also compatible with an array of bike computers and smart devices—though PowerTap recommends its Joule GPS+ to get the most out the data, naturally—and you can sync the pedals to PowerTap's iOS app, which just got an upgrade with PowerTap's Advanced Pedal Metrics. That's right, even more data! Although you will have to swap in their three-bolt keo-style cleats (included) for your current cleats before you are ready to roll. $1,999.99
Bottom line: The install and set-up make these ideal for someone using more than one bike to train. You can use the pedals with a variety of cycling computers, but not a variety of cleats.
Final note on power meters: Our testers fall in more with the enthusiast crowd than with the pros, but they reported learning a good amount about how they ride and how they could improve. It's not essential to be a data fiend to get a lot out of these pedals, but to really get the most out of them you should have a certain level of love for analytics.